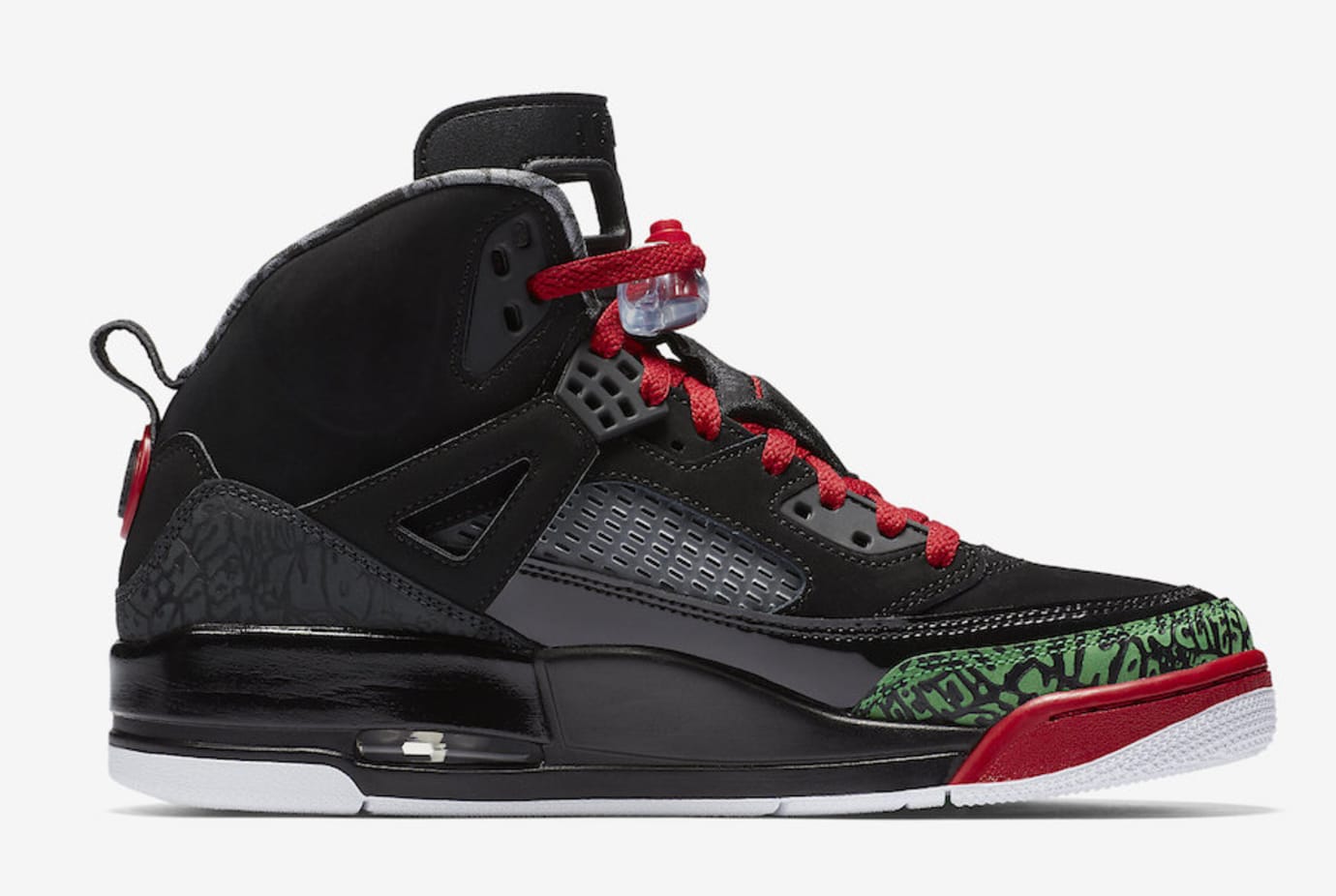 Photo: Nike
Spike Lee is an american actor, writer, and director who has produced 35 films since 1983, and is also known for his unwavering love for his basketball team, the New York Knicks. He was finding success around the same time Michael Jordan and the Air Jordan line were, and as a result the two pop culture powerhouses decided to team up. This connection between Jordan Brand and Spike Lee grew very strong and so as a thank you gesture, Jordan Brand have produced multiple shoes honoring Spike Lee, most notably the Air Jordan Spizike.
The Air Jordan Spizike is a mash up of all the different sneakers Spike Lee's character, Mars Blackmon, helped advertise. The shoe features the elephant print from the Air Jordan 3 on the toe and heel, and the wings of the Air Jordan 4. It has the same translucent panels on the sides as the Air Jordan 5, and the same tongue as the Air Jordan 6. Lastly, this sneaker came out in 2006, the same year as the Air Jordan 20, so it also features the Air Jordan 20's laser printing.
The relationship between Jordan Brand and Spike Lee is strong for a number of reasons, firstly because of the continued references to Air Jordan's in Spike's movies. In 1989, "Do the Right Thing" came out in cinema's and it featured a now famous scene where the character, Buggin Out, gets angry at a cyclist scuffing his Air Jordan 4's. Then in 1998, Denzel Washington wore a pair of Air Jordan 13's in Spike Lee's movie "He Got Game."
What Jordan are particularly thankful for though, is Spike Lee's role in multiple adverts for the Air Jordan 3,4,5, and 6. Playing his character, Mars Blackmon from his 1986 movie "She's Gotta Have It," Spike Lee famously announces that "It's Gotta be the Shoes!" This advert was a dream come true for the young actor and director, but it was also very beneficial for Jordan Brand as the ads were extremely successful, hence why they are still remembered to this day.
Since the first ad together, Jordan Brand and Spike Lee have always had a strong relationship, and as a result, Spike has been the inspiration for 3 Jordan silhouettes, the Spizike that references the shoes he helped advertise, the Spike Forty which celebrates Spike's 40 Acres and a Mule film production company, and the Son of Mars, referencing Spike's character Mars Blackmon.
The love hasn't all been one way though, as Spike Lee has made a habit of promoting Jordan's new shoes and constantly wearing them court side at Madison Square Garden. Spike Lee even wore a 1 of 1 pair of golden Air Jordan 3's last year, when he won his first ever Oscar, for his film BlacKkKlansman.
Its been some time since we have gotten our hands on any new Jordan and Spike Lee collaboration, however it shouldn't be too long until we see the two link up again. For now though, you can still find pairs of the Nike Spizike online from Footlocker, or from resale websites such as StockX or Flight Club.